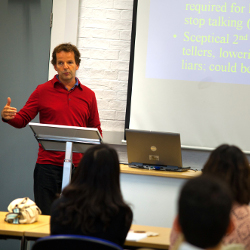 Below is the list of papers available in the first year. Students take a total of four papers, the following two are compulsory:
PBS 1: Introduction to Psychology
This course aims to introduce a variety of theoretical and methodological approaches to the study of Psychology. Through studying this course, students will develop their understanding of how the different approaches address specific topics within psychology. Topics are selected such that students without prior training in psychology will not be disadvantaged. After a brief introduction to the history of psychology, and its various sub-disciplines, a series of four broad topics will be explored. Each topic will be covered over seven lectures, with research and ideas from different theoretical viewpoints being discussed and compared in an additional panel session at the end of each topic.
PBS 2: Psychological Enquiry and Methods
This course covers the foundations of psychological study, including the mathematical and biological knowledge and skills required to engage with the research literature. The material on this course provides a foundation for all later study of psychology, providing students with the intellectual tools required to evaluate psychological material in later years. Teaching includes a range of techniques, including mathematics lectures and examples classes in the morning, and interactive afternoon sessions each fortnight.
Optional papers vary from year to year, but will typically include topics on the following:
Archaeology

Biological Anthropology

Evolution and Behaviour

Social Anthropology

Sociology

Philosophy
At the end of the year, students sit a three-hour written examination in each of the four papers.